What's New
---
April 5 2019
Smart 1-Line™ NOW AVAILABLE!
Based on a rugged, fanless, touch screen industrial computer with a solid-state drive and a 21.5" high-definition touchscreen, Smart 1-Line™ is URC's modern turn-key solution for monitoring your AC-PRO® and AC-PRO-II® networks at one convenient location. It displays a field-configurable electronic one-line diagram with breaker readings, status, and more. For more detailed information, simply tapping (clicking) a breaker symbol launches the built-in InfoPro-AC® software.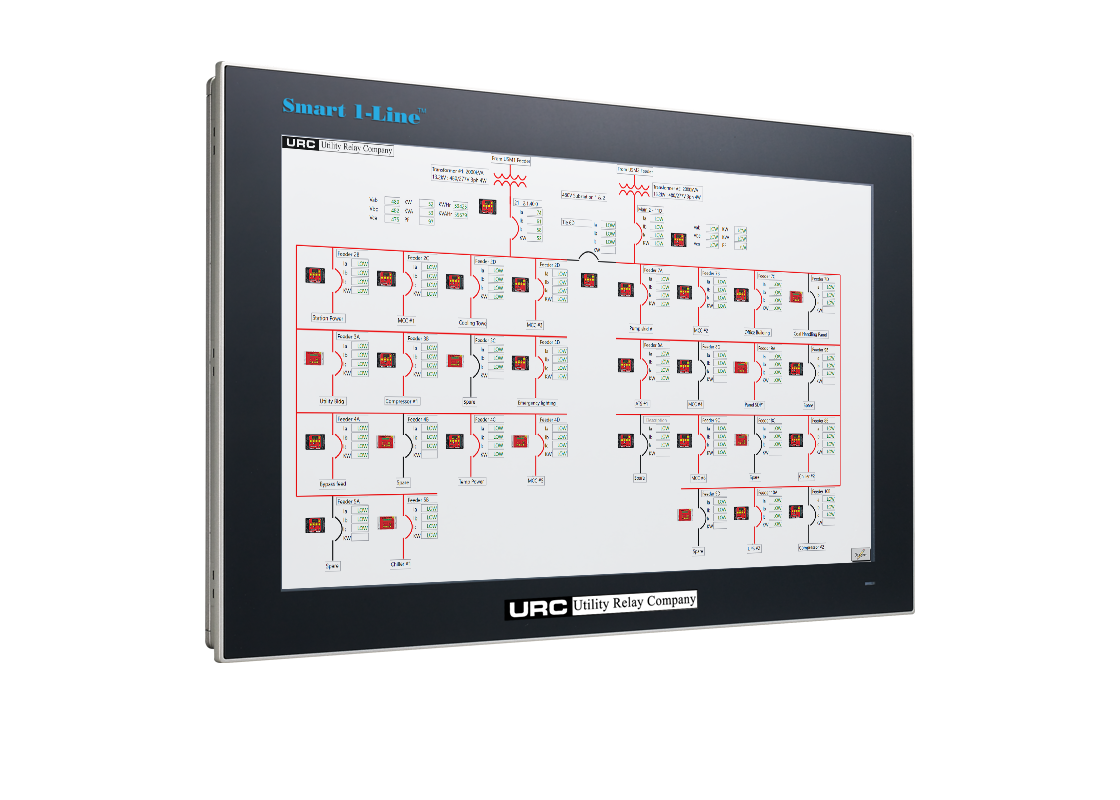 ---
Feb 11 2019
Introducing the QT-DISPLAY-IM
The QUICK-TRIP® system is a manually controlled arc flash reduction system. It can reduce trip times when turned on and allows selective coordination between circuit breakers when turned off. If maintenance personal must work on energized equipment, they will first turn the QUICK-TRIP® system on at the breaker feeding the equipment. If a fault occurs, the upstream breaker will trip quickly based on the QUICK-TRIP® settings reducing the arc flash hazard to personnel.
As part of this system, Utility Relay Company offers the QT-DISPLAY®, which allows settings and messages to be viewed without opening the cubicle door.
AC-PRO-II® is now compatible with QT-DISPLAY® through the NEW QT-Interface Module®. This module allows backwards compatibility with the display, which previously only worked with the
AC-PRO®. Due to this change we hope that customers already content with their QT-DISPLAY® will feel confident upgrading to the AC-PRO-II® trip unit and take advantage of the new features it offers.
QT-DISPLAY-IM Features:
Allows the QT-DISPLAY and QT-Switch to be used with either AC-PRO-II or AC-PRO
Allows QT-DISPLAY to display Currents, Voltages, Power, Energy, Settings, and Last Trip Data from AC-PRO-II (requires VDM for Voltage, Power and Energy data)
Includes USB extension port for AC-PRO-II (For InfoPro-AC software and SAFE-T-TRIP)
Requires control power with versatile design accepts 120VAC, 125VDC, or 24VDC
Compatable with Existing Products
Ideal for:

Cubicles where QT-DISPLAY is already installed.
Cubicles where breakers with either AC-PRO-II or AC-PRO could be racked in.

---

February 1 2019

Smart 1-Line Coming Soon!
Final development testing for Q1 release!

Based on a rugged, fully enclosed, touch screen industrial computer with a solid state hard drive the Smart 1-Line™ is URC's modern turn-key solution for monitoring your AC-PRO® and AC-PRO-II® networks at one convenient location. Document, store, and access all your breaker data using built-in software for: Settings, Time Current Curves, Trip History, Waveforms*, and more.

Visit our promotional page or sign up for our e-mail newsletter to stay up-to-date with the Smart 1-Line release.

---

January 2019

InfoPro-AC Version 2.1 Now Available

The InfoPro graphical user interface software was developed to provide our customers with on-demand breaker information from a USB connected trip unit.

In addition to the diverse features InfoPro already offers, version 2.0 and onward allows our users to:

Plot Time Current Curves (TCCs) with Test Results
Input and Document Breaker Test Results
Input and Document "As Found" and "As Left" Trip Unit Data
Print and Save Test Reports
Perform RS-485 Modbus Communications Test

Dowload and try our InfoPro for free below! InfoPro-AC is ONLY compatible with AC-PRO-II Trip Units

| Version | Compatible Trip Units | Download |
| --- | --- | --- |
| InfoPro-AC | AC-PRO-II | |

---

Listed below are the latest retrofit kits available from Utility Relay Company.

Eaton, Magnum DS

Kits available for 800A to 6000A breakers
Reuses the existing actuators
Modbus communications standard with
the AC-PRO-II®
Power and voltage information available with the VDM

ORDER NOW, From our Kit Ordering Guide

GE, WavePro

Kits available for 800A to 5000A breakers
Kits are available that reuse the existing actuators or use new mechanical auto reset actuators.
Modbus communications standard with
the AC-PRO-II
Power and voltage information available with the VDM

ORDER NOW, From our Kit Ordering Guide

---

Siemens, SB

Kits available for 400A to 5000A breakers
Reuses the existing actuator
Modbus communications standard with
the AC-PRO-II
Power and voltage information available with the VDM

ORDER NOW, From our Kit Ordering Guide

---

Square D, SEF/SED

Kits available for 800A to 4000A breakers
Reuses the existing actuator
Modbus communications standard with
the AC-PRO-II
Power and voltage information available with the VDM

ORDER NOW, From our Kit Ordering Guide

Westinghouse, SPB

Kits available for 800A to 4000A breakers
800A to 3000A uses new CT's
4000A breakers use existing CT's
Modbus communications standard with
the AC-PRO-II
Power and voltage information available with the VDM

ORDER NOW, From our Kit Ordering Guide

Siemens, WL

Kits available for 800A to 3000A breakers
Reuses the existing actuator
Modbus communications standard with
the AC-PRO-II
Power and voltage information available with the VDM

Coming Soon to our Kit Ordering Guide