Trip Unit Retrofit Course
---
Update September 2020 –We are evaluating plans for retrofit courses in 2021. This page will be updated as our decisions are finalized.
June 2020 – At Utility Relay Company we pride ourselves on our service and quality. In the wake of the unprecedented health circumstances of COVID-19, we have decided that we are unable to provide a satisfactory learning environment that achieves our goals for the Retrofit Course, while also ensuring the safety of both attendees and staff. Due to these concerns, our Trip Unit Retrofit Course, scheduled for September 15-18 2020, will not be held this year.
We understand the gravity of the situation for all our attendees who utilize our Retrofit Course to accelerate their careers. It is our hope to hold the Retrofit Course once again when it can be taught in the way that provides real benefit to all who attend.
---
Why We Began the Retrofit Course
Over the years our customers have repeatedly asked:
"Where can we find qualified breaker technicians to retrofit circuit breakers?"
This industry request for help has gone unanswered until now. URC is proud to announce and offer our Trip Unit Retrofitting Course to our customers. This class will be held throughout the year at our headquarters in Chagrin Falls, Ohio.
The Low Voltage Circuit Breaker Retrofit Course can be a starting point for a new technician, or sharpen the skills of the experienced team leader. This class is being offered to both independent and OEM service technicians that retrofit power circuit breakers.
---
About the Course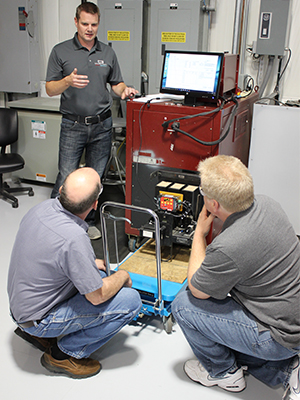 The Utility Relay Company Retrofitting Course combines classroom and hands-on experience to provide new and veteran technicians with a solid understanding of the retrofit process. The attendee should have basic knowledge of AC/DC electricity and be familiar with low voltage circuit breakers.
The course is instructed by our degreed electrical and mechanical engineers. Together they have decades of experience designing electronic trip devices and retrofit components for hundreds of low voltage
AC & DC power circuit breakers.
This is a three and a half day course. The participant is also eligible for 28 NETA CTD Credits if affiliated with a NETA accredited company
---
Students Will Learn:
Basic theory of protective devices used on low voltage power breakers
Hands-on installation of a retrofit kit (Two students per breaker)
Primary and secondary injection testing of a retrofitted circuit breaker
Experience with InfoPro-AC Software using their own Windows-based laptops (bring your own laptop)

Course at a Glance:
3.5 Days of classroom and hands-on instruction
12 Students per session
Students will earn 28 NETA Credits if affiliated with a NETA accredited company
Held at our Chagrin Falls, Ohio headquarters.
---
Cost:$1465.00
Transportation and accomodations not included. Credit card required to reserve a seat. Registration includes 3 lunches and 1 dinner. Download our informational brochure
here.